Installation as part of RIBA Windows Shanghai, April 2015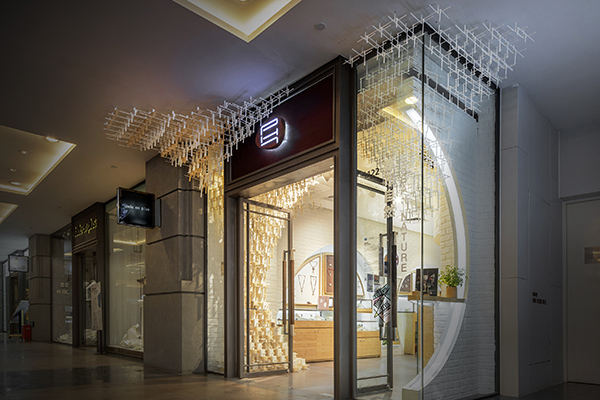 'Urban Nature' is an interpretation of urban structures responding to dynamic environments similar to natural ecologies. Its shape and material system is informed by the circulation and viewing opportunities around the site, the entrance of the PH7 store at the Xintiandi Style mall. The piece is intended to be read as an aggregate of architectural elements, visually resembling a building structure or high-density urban area that grows and adapts in relation to the economical and cultural forces of everyday life.
Blending aspects of jewellery design, product design and architecture, 'Urban Nature' is an exploration of new principles of design and fabrication.
The installation is constructed entirely out of 3D printed components – each component being unique.
The project was produced by Urban Systems London as part of the RIBA Windows programme, which invited 10 architectural practices in the UK to showcase their work in China.
Design by Urban Systems Office LLP, Jeroen van Ameijde
Design development, scripting and 3D Printing: Andrea Bugli / Miguel Reyna