In 2012 MakeLAB focused on 'Emergent Constructions', using opportunities in the integration between innovative material processes, devices and computational methods. This approach speculated on the possibility of the monitoring a set of properties on-site, and how they can inform a generative design workflow in real time. Final constructions were not predetermined, but emerged out of performance-based rules, integrated in computational models that drive on-site fabrication strategies.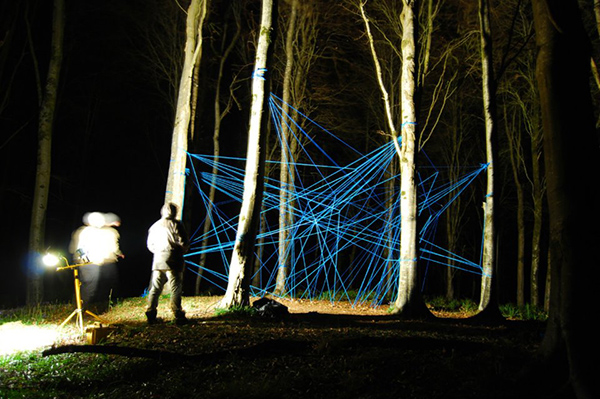 Experimentation was conducted in small, workshop led groups which proposed innovative design and build methodologies using sensor-based generative design methods connected to customised fabrication hardware, aimed at the construction of prototypical structures on site. Using specific materials and sites available at the Hooke Park campus and woodland, the workshop offered the unique opportunity to explore the application of highly experimental technologies towards the construction of architectural structures at a 1:1 scale.
Each team was assisted by several experts in particular software and hardware technologies, including Rhino and Processing based work-flows and Kinect, Arduino and CNC based sensors, micro-controllers and actuators. A number of working software and hardware solutions was offered at the beginning of the workshop, to start experimentation at an advanced level from. Supporting technologies such as laser cutting and CNC machining were made available for the MakeLab workshop.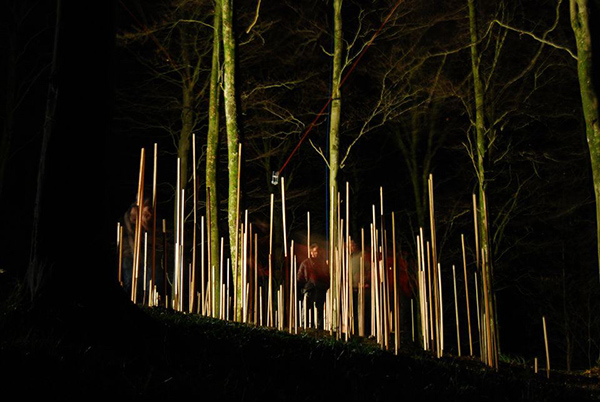 The workshop programme included lectures, tutorials and design reviews and culminatd in a final presentation with invited critics, including Bob Sheill (Senior Lecturer UCL) and Martin Self (Hooke Park Director).
The work has been presented and published as part of the eCAADe in September and the ACADIA conference in October 2012 which was held in San Francisco and was titled 'Synthetic Digital Ecologies' [link to paper abstract].
Tutors:
Jeroen van Ameijde
Brendon Carlin
Jenny Hill
Shankara Kothapuram
Luke Olsen
Denis Vlieghe
Karleung Wai
Participants:
Janet Bezzant
Caitlin Copeland
Andrew Hogwood
Andrew Hum
Wiktor Kidziak
Yu Hin Kwok
Thiago Jose Lopes De Barros
Evangelia Papageorgiou – Marig
Mond Qu
Guilherme Rampazzo
Karjvit Rirermvanich
Ana Cecilia Toledano
Yun Zhang