A five-day workshop engaging in innovative architectural fabrication processes, Hooke Park – April 2014.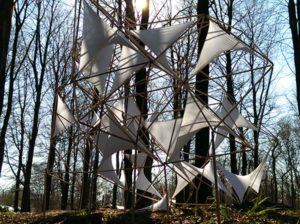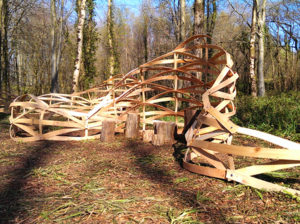 'Microclimates'
This year the program focused on 'microclimates', designing and testing the potential environmental, social and ergonomic performance characteristics of lightweight and site specific inhabitable structures. Using straightforward rule-based design processes set up within simple parametric design software, the projects explored synergies between digital fabrication and the principles of generative design.
To incorporate site specific design data and performance criteria, we established a 'digital link' between sensors and the design and construction process on site. Careful digital monitoring and translation algorithms helped to articulate and grow the architectural structures while at the same time ensuring their highly optimised site specificity. Ongoing analysis of the sensor readings and environmental mediating qualities of the structures as they grew established a feedback loop between the design process and the architectural performance of the finished structures on site.
Tutors:
Jeroen van Ameijde
Andrea Bugli
Miguel Reyna
Ángel Linares García
Ángel Fernando Lara Moreira
Henry Cleaver
Norine Chu
Participants:
Swamynadhan Murugesan
Levke Maria Danker
Daniel Artur Leiter
Aiman Tabony
Ainaini Hamimi Abdul Rahin
Yuri Miranda
Robert John Hebblethwaite
Lianyi Wang
Suk Ping Heidi Yuen
Emilia Li
John Kanakas
David Ward
David Trujillo
Jaume Verdeguer Ruiz
Noelia Navarro Escudero
Maria Florencia Gonzalez del Solar