Flow is an installation that was produced during a workshop in the 'Space Media Festival' in Taipei, organised by Dezact (UK) and Stichting Modulus (NL). It is the result of the first-time collaboration by an architect and a media artist who developed an integrated conceptual approach for a design methodology and set of material and technology systems for a new work produced on-site.
The location for the project was the abandoned and derelict former military personnel residential village on Toad Mountain, Taipei, that through the Space Media Festival and other initiatives is drawing attention to its unique heritage qualities in a bid for preservation of the area rather than redevelopment.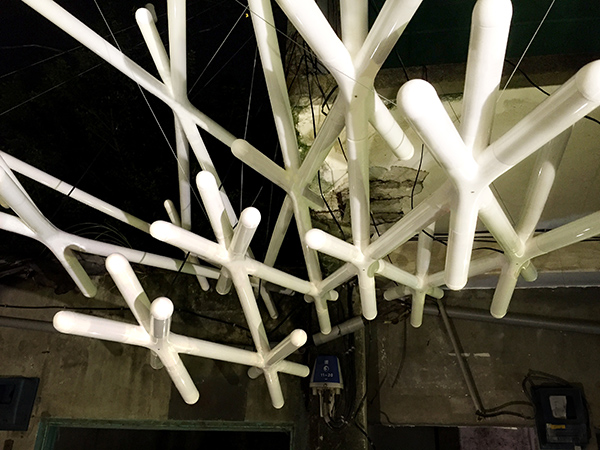 The workshop and installation departed from a kinesiological understanding of space, where a specific 'parkour' movement through the site was traced and translated to guide the overall configuration of a modular installation. Through its formation and interactive lighting, the installation sought to provoke alternative readings on use of urban spaces and invited active participation by visitors, aiming to stimulate movement and flow through the project's site.
The installation is conceived as a custom designed component system, using plug and play 3D-printed modules connected by polycarbonate tubing of different lengths to create different densities within the overall formation. The nodes contain microprocessors, LED's and light sensors to enable specific patterns of dynamic lighting behaviours, triggered by movements of the people underneath.
FLOW from MaterialCodes on Vimeo.
Credits:
Design coordination by Jeroen van Ameijde and Luis Rodil-Fernández
Design, fabrication and construction assistance by workshop students
Interaction design and fabrication: Luis Rodil-Fernández with Howard Chen
3D Printing coordination: Jeroen van Ameijde / Sean Wu / See Chin Liang
Supported by the National Taipei University of Science and Technology (NTUST).