Short visiting workshop at the AA's Design Research Lab (DRL) master programme titled 'Homemade CNC', taught by Michael Grau and Jeroen van Ameijde.
AA School of Architecture, London, 26 January – 4 February 2009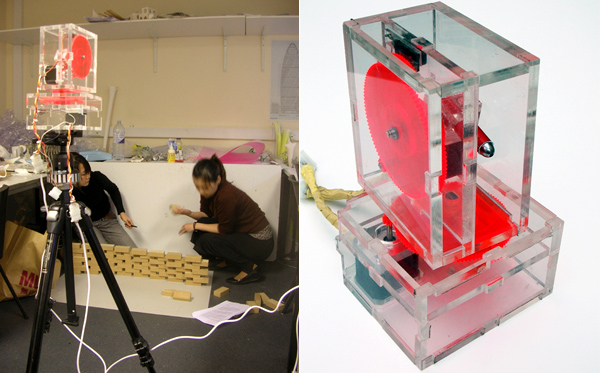 This short, intensive workshop concentrated on the experimentation with specific construction methods using a custom built CNC installation in combination with custom related software algorithms. This design and production process aimed to impact the way computer-aided manufacturing is used in real life construction processes by introducing low-cost hardware solutions which can integrate a more efficient use of raw materials, offering CNC solutions that are more appropriate for architectural applications than the standard CNC milling.
Student teams explored design methods based on an architectural case study, developing both the digital design and interpretation methodologies as well as the digitally controlled fabrication process. Each group aimed to reach an integrated scenario including of all parts of the design to production process, such as digital design, modelling, scripting, file translation, hardware interface and machine operation, material formation and/or assembly.
Results of the workshop included a custom-built CNC installation and 1:1 scale prototypical output produced with the machine.
Students:
Knut Brunier
Diego Rossel
Jose Sanchez
Anica Taneja
Shany Barath
Gary Friedman
Immanuel Koh
Osbert So
Yuxi Fu
Xiaosheng Li
Stuti Shah
Jiali Zhou
Soomeen Hahm
Xin Wang
Denis Lacej
Denis Vlieghe
Chialiang Huang
Subharthi Guha
Jie Yuan
Le Ha Hoang