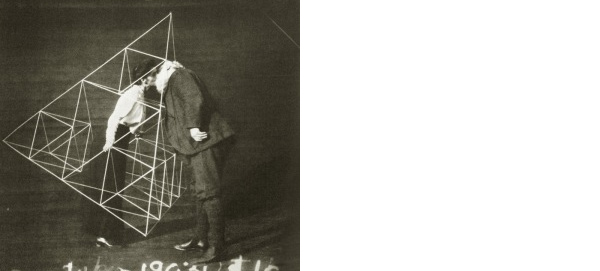 .
Part to Whole
Intermediate Unit 6 will continue its investigation into integrated design and construction strategies, using realistic urban project scenarios to explore the architectural implications of technological innovation. Dividing the year into two interdependent phases, students will work in teams on experimental fabrication processes at a 1:1 scale as well as individually on design methods that implement the key qualities of a material system through spatial and performative rules. Applying these methods towards high-density housing allows us to address some of the most pressing challenges that architecture faces today, exploring new modes of urban living within contexts of limited resources and space.
In the first phase of the year we will develop experimental design and build processes aimed at producing a
single, stackable housing unit. Focusing this year on systems that consist of a 'kit of parts', we will take advantage of high-precision digital manufacturing technologies to separate building functions into specifically programmed parts. Combining high and low-tech methods of fabrication and assembly, we will develop design and build methods, which can produce a range of structures that are adapted to their specific environmental and programmatic requirements. In collaboration with industry partners and using visits to Hooke Park, each team will design and construct a prototype at 1:1 scale.
Starting the second phase with research for our individual projects we will visit Shenzhen and Chongqing,
two of China's fast-growing, second-tier megacities and a laboratory for new architectural and urban typologies designed to house a new middle-class. We will respond with our own strategies for density, programmatic and social diversity, multiplying our housing units through clustering strategies that test out issues of proximity, access and light. We will set up rules to adapt units to their individual role within the collective, adding strategic variation to improve the performance of private and public space. Then we will revisit our fabrication strategies and speculate on machinic construction and growth, allowing projects to become open systems capable of adapting to the ever-changing requirements in their prolonged lives. They become part of a highly networked and dynamic urban environment, programmed to evolve over time.
(image: Alexander Graham Bell with his wife, demonstrating the lightness of the space-frame structure constructed by her husband, 1903)
Unit Masters:
Jeroen van Ameijde studied Architecture and Building Technology at the Delft University of Technology. He has practiced in Holland, New York and Hong Kong and taught in a graduate design studio at the University of Pennsylvania. As Head of Digital Prototyping he has been teaching at the AA since 2007, working with various units and programs including the Design Research Lab graduate programme. He has lectured and taught workshops in several universities worldwide and is developing design projects with his experimental architecture practice Material_Codes.
Brendon Carlin completed his masters research in Architecture and Urbanism in the AA Design Research Lab, and an undergraduate of Environmental Design in Architecture, at the University of Colorado Boulder. He has worked for numerous offices including Plasma Studio, MAD Beijing, and UN Studio in Amsterdam and taught courses and workshops at the Berlage Institute and Harvard.