Under the title 'Emergent Constructions', the AA Visiting School Kuwait has for the second year brought together international and local students, academics, and practising architects in a twelve day programme which investigated computational methodologies for context-specific architecture design.
The pavilion showcases a radical new approach towards the construction of digitally designed architecture, translating intelligently arranged building components into a system of discrete material components with integrated functionalities. Rather than using separate materials for structure, cladding, shading, etc, the 'PixelSpace Pavilion' demonstrates a digitally designed building component system that can integrate these functions. Using combinatorial patterns of different elements, the pavilion offers a spectacular immersive experience for visitors that highlights the opportunities and spatial qualities that new and complex digital technologies can offer to architectural spaces.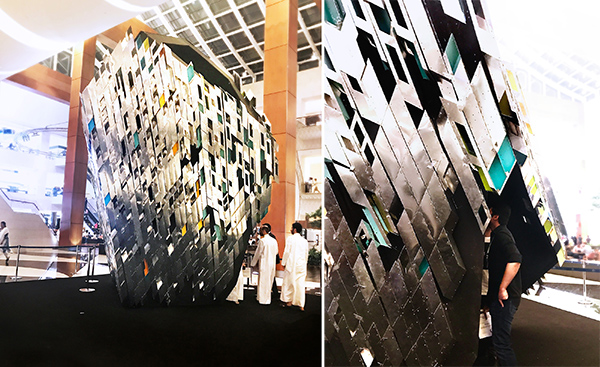 DISCRETE MATERIAL SYSTEM
Using a three-dimensional grid and the concept of voxel combinations, a small range of components has been designed in multiples of the standardized size of 100 mm. The standardized dimensions used for the geometry of the components offer the possibility for the pieces to be rotated around three axes, thus further expanding the range of options for filtering light and views without adding additional unique pieces.
Diagonal surfaces have been introduced into the components to allow for the indirect filtration of daylight while at the same time blocking direct sight lines to be able to provide privacy. Using combinatorial patterns of different types and sizes of elements, variations in structural performance, shading, and privacy generating qualities have been located around different zones of the pavilion. The pavilion is composed out of 1280 pieces in total: 31 extra large, 272 large, 338 medium and 639 small size pieces.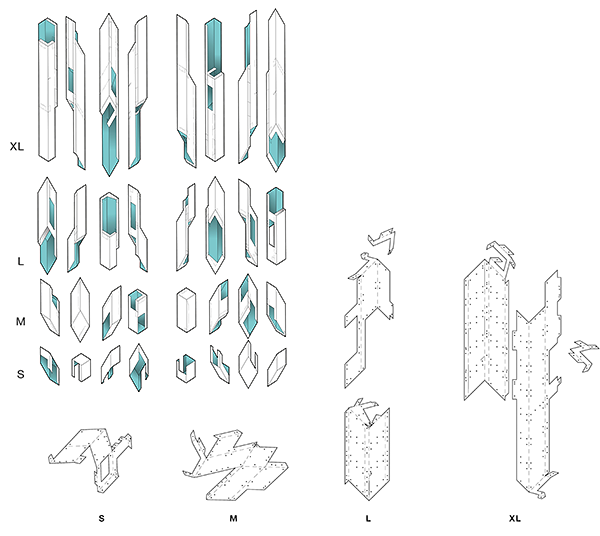 COMPUTATIONAL PATTERNS
The 'PixelSpace Pavilion' is constructed out of a custom-designed, multi-performative component system. Using pattern combinations of different types and sizes of elements, the walls of the pavilion incorporate variations in structural performance, shading and privacy filtering. A computational process was used to generate the component stacking patterns, matching the qualities of the pattern to the requirements for the different areas of the enclosure. This process incorporates specific site relationships such as blocking certain light angles or framing certain views towards the viewpoints in the direct surroundings.
The project demonstrates an approach towards high-resolution construction materials, that create optimised functional and exciting environments. The use of a customized software application for these types of processes allows the role of the architect to focus on the overall qualities of space while being able to control complex material organizations indirectly and economically.
Programme Faculty
Jeroen van Ameijde
Sulaiman AlOthman
Nada AlQallaf
Christina Dahdaleh
Manuel Jimenez Garcia
Manja van de Worp
Programme Participants
Reem Abdulsalam
Jassim Alabbad
Dalal AlBaker
Muneera Albanwan
Ali Alblooshi
Lulwa Aldihani
Khaleefa AlHemli
Sara AlQahtani
Sultan AlSamhan
Diana Ashkanani
Nour Yaqoub Jaafar
Lucinda Smith
Collaborators
Mai Al Busairi
Mohamad Albualian
Abdullah Bukhamseen
Meshal Al-Khamees
Mohammed AbuHakmah
Salman Qasem
Ehsan Rahimi
Sponsors
Gold Sponsor: Tamdeen Group
Bronze Sponsor: Golf Consult
Pavilion Host: 360 MALL
Workshop Host: Masaha13
Fabrication Partner: Parallel Studio
Paint Supplier: Kuz Store
Logistics Partner: Grass Exhibition