Hooke Park, Dorset
MakeLAB is a five-day programme that explores new modes of design conception through computer-aided architectural design and fabrication experiments.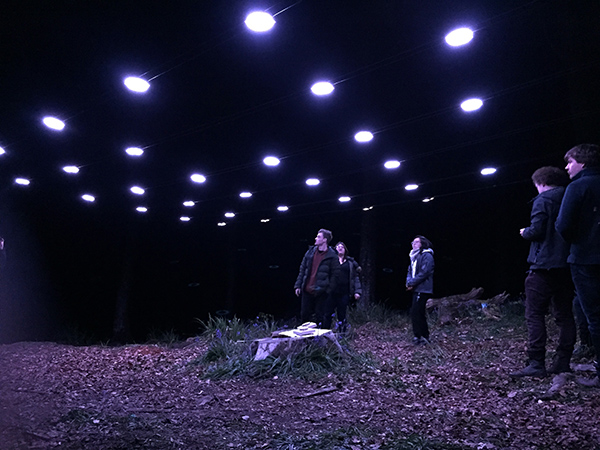 This year the programme revolved around the theme of 'surveillance', investigating the changing relationships between the built environment and its inhabitants through new protocols for the recording and application of user data.
​The workshop used the forest as a laboratory for the construction of a large scale 'data space' that incorporated sensors and communication devices, which were then used to test complex and evolving recognition and influencing behaviours.
Using a live link between the 1:1 data space on site and 3D parametric design software, we experimented with conceptual and data-driven design methodologies and how these can be applied to future architecture and urban planning and usage processes.
​The workshop produced a 1:1 interactive installation and recordings of experiments between the installation and human movement and behaviour.
AAVS MakeLab 2017 – 'Data-space from MaterialCodes on Vimeo.
Credits:
Tutors:
Jeroen van Ameijde
Ping-hsiang Chen
Zachary Mollica
Luis Rodil-Fernández
Workshop participants:
Laura Duist
Rawan El Hariri
Aysel Gulay Elbasdi
Nelly Huang
Ibo Ibelings
Małgorzata Stanisławek
Samir Abillama
Lukas Ciapas
Thomas Hoek
Edward Kermode
Vyacheslav Lavrus-Gimmelreykh
Gabriel Payant
Merel Peters
Prachya Pitapho
Jelle Reith