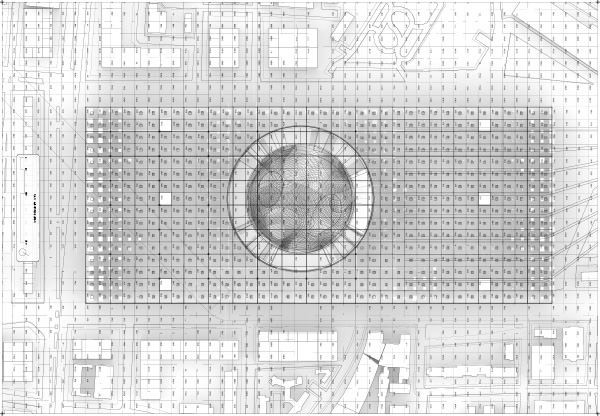 Cities of Desire
In 1993, William Gibson ignited debate when in an essay for Wired magazine, he referred to Singapore in the analogy "Disneyland with the Death Penalty". He described the city as a homogenous shopping mall full of convention center-like buildings, and droning consumers and as devoid of any grit, or pockets of otherness. It seems that the contented, squeaky clean, high tech yet dystopic society conjured so often in science fiction of the 20th century had become a reality. While fleeing from Singapore, Gibson contemplated Kowloon Walled City as he landed in Hong Kong: "Hive of dreams. Those mismatched […] windows. How they seemed to absorb all the frantic activity of Kai Tak airport, sucking in energy like a black hole. I was ready for something like that. . . . I loosened my tie, clearing Singapore airspace."
Several aspects of Gibson's tale evoke a sense of horror in their familiarity to developing tendencies in contemporary London. An eerie, synthetic kind of homogeneity tempered by contented hedonism is gripping the city; every moment and space of our lives is consumed by work, or spent consuming. Social and political spaces have become indistinguishable from consumption and work spaces. Architecture, like the droning consumer, has become a helpless bystander subservient to the developer, corporation and their conservative government officials. Shall we cast our future at the feet of these interests, or do we want to claim an active role in inventing the city?
This year Intermediate 6 will consider how architecture, as choreography of material, space, light, movement and policy can chart trajectories and deploy tactics for otherness in London. We will ask how the furious work-consume-sleep-repeat ritual of everyday life might be channeled, interrupted or even exposed to open possibilities for new shared experiences of future London.
Unit masters:
Jeroen van Ameijde has been teaching at the AA the since 2007 and is co-founder and director of Urban Systems, an office specialising in generative design methodologies which is currently developing several large scale projects in China. He has previously taught at the University of Pennsylvania and the University of Innsbruck and has lectured, published and taught workshops on digital design and fabrication worldwide. He has studied at the Delft University of Technology and worked with offices in The Netherlands, Switzerland, New York, London and Hong Kong.
Brendon Carlin has been a unit master at the Architectural Association since 2011, is co-founder of Urban Systems, is a candidate with the AA PhD by Design Programme and Director of the AA Visiting School Programme Tropicality. He has completed a Masters in Architecture and Urbanism DRL at the AA and an undergraduate at the University of Colorado, Boulder and has worked on a wide range of architectures in Holland, the UK, China and the United States. Brendon has lectured, critiqued and published extensively and has taught with numerous under- and post-graduate courses and workshops at the University of Colorado, Berlage Institute, the AA and Harvard.
Image:
Joy Evelyn Wilson. Consumption Machine – when augmented reality has become ubiquitous, will the physical architecture of London's Euston station become even more optimised towards a seamless delivery system of consumption and desire? What role can architecture play in this kind of future?