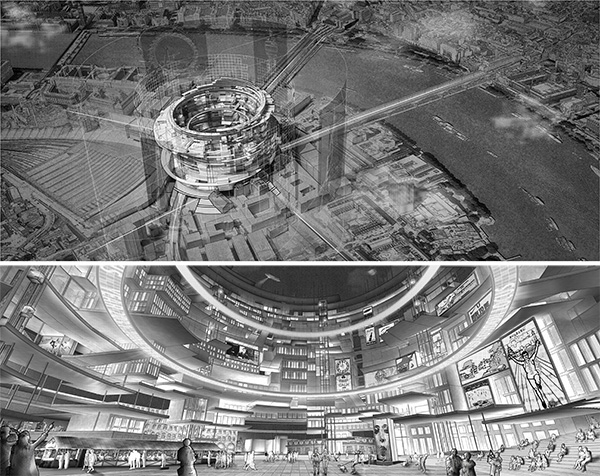 Culture of Congestion
In Delirious New York Rem Koolhaas described how collectively embracing a new dense urban culture led to the invention of new building typologies, hybrid programmes and unforeseen urban spectacle. Today we wonder whether a manifesto guides the current densification of London. Manhattanism came out of revolutionary new technologies, such as elevators, steel structures and zoning laws. As we now witness the emergence of 'Manhattan on the Thames', shouldn't the current range of technological breakthroughs and social shifts spark new extraordinary metropolitan architectures ?
This year Intermediate 6 explores such a possibility as we continue our investigation into the social performance of urban fabric. We will question the impact of expanding communication and design technologies on our culture and use them to analyse and redesign strategic London sites. Following a new yearlong programme of individual project development, we will utilise mapping, translation and design development processes to generate projects with the potential to create programmatic synergies and catalytic social opportunities within the city.
We will stage our investigations in both London and New York, delving into a rich history of conscious and emergent architectural mutations. In New York we will collaborate with leading academic researchers who are mapping urban ecologies in challenging sites, proposing strategic interventions that trigger new programmatic intermixing and economic regeneration within the urban fabric. In London we will investigate existing public spaces of 'socio-economic synergy', selecting sites with the potential to support new types of civic life. Using specific geometric and tectonic systems based on extensive precedent research and prototyping experiments, we will explore the physical and operative deployment of innovative urban and architectural structures. Through critical research and architectural precision, we will propose interventions that intertwine with existing urban intricacies to create new spaces for the enrichment, subversion or confrontation of the currently known functions of the city.
Unit masters:
Jeroen van Ameijde has been teaching at the AA the since 2007 and is co-founder and director of Urban Systems, an office specialising in generative design methodologies which is currently developing several large scale projects in China. He has previously taught at the University of Pennsylvania and the University of Innsbruck and has lectured, published and taught workshops on digital design and fabrication worldwide. He has studied at the Delft University of Technology and worked with offices in The Netherlands, Switzerland, New York, London and Hong Kong.
Brendon Carlin completed his masters in Architecture and Urbanism in the Architectural Association and an undergraduate of Environmental Design in Architecture at the University of Colorado, Boulder. He has worked on architecture projects of various scales for offices in Holland, the UK, China and the United States. Brendon has taught and co-coordinated courses and workshops at the University of Colorado, Berlage Institute, the AA and Harvard. Currently he is developing several large building and urban projects as director and co-founder of the London-based practice Urban Systems.
Unit tutor:
James Kwang-Ho Chung is an architectural designer at Urban Systems. He has worked for Foster and Partners and NEX Architecture in London on projects of various scales in the UK, China and Kuwait. James has previously taught and coordinated digital workshops at the AA.
Image:
Alex Chung, proposal for a differentiated framework for urban growth at Waterloo station, using a highly concentrated urban space to connect different traffic flows and offer a 'third place' for the enrichment of people's daily routines between live and work.