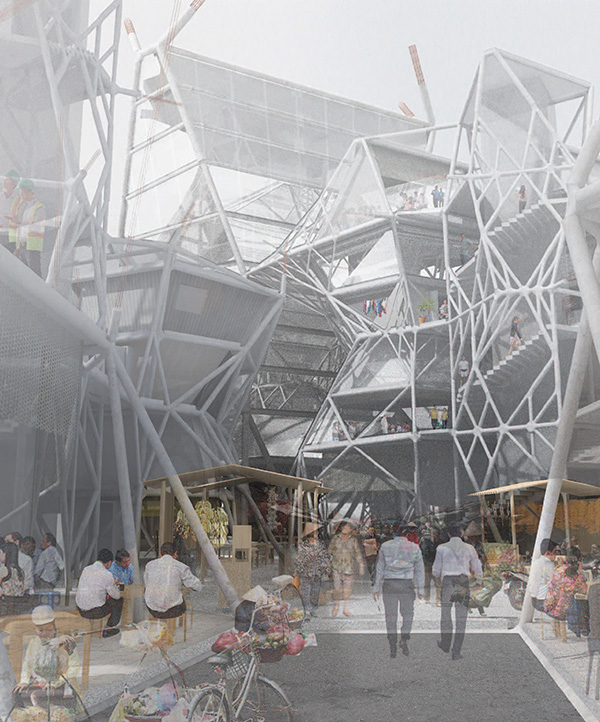 Deep Planning
When the term 'deep planning' was first introduced 1999 to describe an 'integral, time and user based approach' to architecture and urbanism, it was from within a small league of architects exploring the implications of new information-based design methodologies. The term addressed architecture's strategic role in guiding the complex realities of the urban condition, and the architect's ability to projectively predict the success of their interventions. From the many unfulfilled ambitions of the '90's avant-garde, 'deep planning' is one of the most intriguing, for its potential to operate within some of the new societal challenges that have since emerged.
Inter 6 will this year adopt 'deep planning' as a working method and ethos, using a detailed understanding of the organisational structures of the city to generate projects with the potential to initiate progressive shifts within the society. We will travel to Shanghai and Tokyo to collaborate with local universities and arm ourselves with insights and experiences of the inner workings of two vibrant epicentres which are challenging and driving global innovation. Using a programme of seminars and design agendas, we will explore 'hyper-urban' conditions capable of becoming catalysts within their surrounding context.
The Unit's design work will develop around an in-depth mapping of a chosen site for the duration of the year. Working within the vibrant public spaces of London's south bank, we will produce a collective information model of the area and use this as a laboratory to analyse and test enhancements of the existing urban ecologies. Individual design proposals will emerge from these data-scapes, using innovative calibrated architectural systems to speculate on strategic interventions within existing urban intricacies. We will conceive of new types of three-dimensional urban and architectural latticeworks and interstitial spaces which elicit networking and collision, capitalising on the synergetic interweaving of multiplicitous urban domains.
Unit masters:
Jeroen van Ameijde has been teaching at the AA the since 2007 and is co-founder and director of Urban Systems, an office specialising in generative design methodologies which is currently developing several large scale projects in China. He has previously taught at the University of Pennsylvania and the University of Innsbruck and has lectured, published and taught workshops on digital design and fabrication worldwide. He has studied at the Delft University of Technology and worked with offices in The Netherlands, Switzerland, New York, London and Hong Kong.
Brendon Carlin completed his masters in Architecture and Urbanism in the Architectural Association and an undergraduate of Environmental Design in Architecture at the University of Colorado, Boulder. He has worked on architecture projects of various scales for offices in Holland, the UK, China and the United States. Brendon has taught and co-coordinated courses and workshops at the University of Colorado, Berlage Institute, the AA and Harvard. Currently he is developing several large building and urban projects as director and co-founder of the London-based practice Urban Systems.
Unit tutor:
James Kwang-Ho Chung is an architectural designer at Urban Systems. He has worked for Foster and Partners and NEX Architecture in London on projects of various scales in the UK, China and Kuwait. James has previously taught and coordinated digital workshops at the AA.
Image:
Jamie Queisser, proposal for a non-standard open framework for urban growth, creating an 'urban catalyst' that intensifies and juxtaposes traditional small and newer, larger types of economic activities at a site in Ho Chi Minh City.