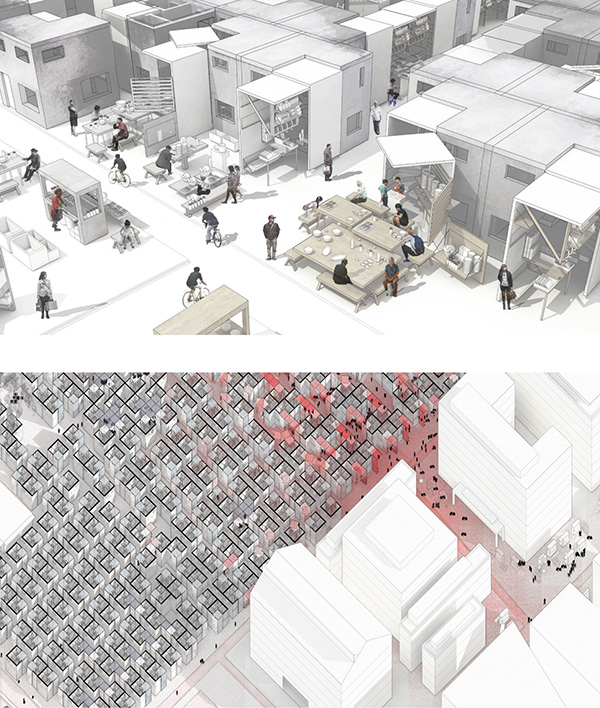 Emergent Urban Ecologies
Intermediate 6 investigates the impact that current advances in technology, science and philosophy make on the ways in which we plan, construct and inhabit dense urban spaces. Our projects emerge out of inventive design processes, rigorously calibrated against the actual complexities of the city, to offer structural improvements amongst the challenges and opportunities found in contemporary city life.
This year we will focus on the workings of urban centres, and the social, cultural and economical relationships that drive their materialisation. We will scrutinise the qualities of existing urban places and question the degrees to which they can be 'successfully' designed while recognising that complexities emerge over time. After field research in London, we will visit three cities in different stages of
development in Vietnam. With a history of colonialism and communism, this territory now experiences economic growth and cultural rebirth, and it will offer us a unique perspective on urbanisation. We will question how foreign typologies and planning models are implemented within local conditions and whether local climate, materials and socio-economics could inform more context specific architectural solutions.
Our design strategies will focus on the development of variable prototypes, which can graft seamlessly into
a high-resolution mapping of the existing cityscape. We will investigate how to incorporate hybrid mixtures of programmes connected through three-dimensional public space. As we explore 'how to construct urbanity', we will design unique architectural systems and dense urban spaces that provoke the emergence of vibrant urban ecologies.
The unit work will be conducted through a short fourweek teamwork exercise in digital design and fabrication, and through individual projects supported by seminars on urban theory, diagramming and visualisation techniques. As our research centres on in-depth design of distinctive urban structures, the work will develop through architectural drawings, models and representations of spatial qualities.
Jeroen van Ameijde has been teaching at the AA the since 2007 and is co-founder and director of Urban Systems, an office specialising in generative design methodologies which is currently developing several large scale projects in China. He has previously taught at the University of Pennsylvania and the University of Innsbruck and has lectured, published and taught workshops on digital design and fabrication worldwide. He has studied at the Delft University of Technology and worked with offices in The Netherlands, Switzerland, New York, London and Hong Kong.
Brendon Carlin completed his masters in Architecture and Urbanism in the Architectural Association and an undergraduate of Environmental Design in Architecture at the University of Colorado, Boulder. He has worked on architecture projects of various scales for offices in Holland, the UK, China and the United States. Brendon has taught and co-coordinated courses and workshops at the University of Colorado, Berlage Institute, the AA and Harvard. Currently he is developing several large building and urban projects as director and co-founder of the London-based practice Urban Systems.
Image:
Norine Chu, Beijing Market Housing – flexible urban fabric that incorporates street markets, dwellings and shared living spaces. The continuously reconfigurable networks allow for complex and unforeseen patterns of live/work combinations to develop democratically.